Исполнителей:
2650
| Альбомов:
68900
| Видео:
976
---
Главная
»
Музыка
Jure Pukl - Broken Circles (2019)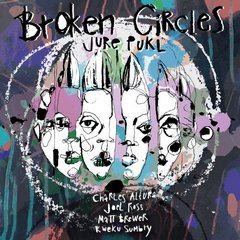 Исполнитель:

Jure Pukl

Название альбома:

Broken Circles

Год выпуска:

2020

Формат файлов:

MP3@320K/s

Размер архива:

152,8 MB

Скачать с:

turbobit/gigapeta

1. Sustained Optimism (7:19)
2. Broken Circles (4:38)
3. Separation (6:23)
4. Compassion (5:22)
5. Triumph of Society (8:42)
6. Gloomy Sunday (6:23)
7. Empty Words (2:36)
8. Bass Intro (1:49)
9. Half Past Five (4:49)
10. Kids (4:53)
11. Sky is the Limit (6:17)
12. Separation (Radio Edit) (5:15)

The sociopolitical and environmental focus on our world seems to be stronger than ever, predominantly for all the wrong reasons. But consequential calls for action can also summon a positive uprising of both energy and creativity – something particularly evident in the story behind Broken Circles from New York-based saxophonist/composer Jure Pukl, with new music that reflects empathy and respect. Previous Whirlwind releases Hybrid (2017) and Doubtless (2018) featured more spatial quartet and dual-tenor environments. But Pukl has also been honing this quite different quintet sound with the arresting line-up of guitarist Charles Altura, vibraphonist Joel Ross, bassist Matt Brewer and drummer Kweku Sumbry.

"We've been playing in New York for a while now," explains Pukl, "including Smalls, Fat Cat and The Jazz Gallery, and I am drawn to how the watercolor feel of guitar and vibes changes the sound, quite different to piano, and sometimes even blurs those textures. I hear Joel as another prominent melodic voice, and Charles contributes hugely to the arrangements." Alongside the dexterity of bassist Matt Brewer is the astonishing talent of Kweku Sumbry. "He moved here a couple of years ago," enthuses Pukl, "and comes from a strong African-family percussion tradition. Hearing this album, my very good friend, drummer Howard Curtis, exclaimed: 'Wow, who's the drummer? He sounds like a percussionist playing drums!' – and that's exactly what he is. So most of the pieces were written (with input from Pukl's saxophonist wife, Melissa Aldana) with this group in my head."

Apparent from the opening bars of 'Sustained Optimism' is the fluidity of this quintet, where Pukl's constant stream of tenor invention is echoed in the rapid elegance of guitar and vibes, supported by electrifying rhythm section; and the title track's similar determination chimes with scintillating shared phrases and improvisation. While 'Separation' (a favourite of Pukl's) echoes themes of broken communities and relationships repeated across the globe, its mellow beauty serves to remind us of our responsibilities to one another; and a Chilean kalimba – "the sound of love, positivity and compassion" – announces a sublime quintet arrangement of previously recorded 'Compassion'.

Buoyant 'Triumph of Society' – an anthem for change that starts with us all – trades tenor against vibes, also featuring remarkable guitar and drum solos, towards an almost symphonic conclusion; and Pukl's pensive bass clarinet in 'Gloomy Sunday' – a 1930s Hungarian tune with dark associations – also finds the light. Elsewhere, busy 11/8 'Half Past Five' swirls with abandon; 'Kids' (charmingly introduced by two young sax students) is a contemplative falling-phrase paean to the next generation; and sprightly soprano conclusion 'Sky is the Limit' confirms the overarching joy in this album.

Jure Pukl resolutely recognizes his artistic direction: "The music I'm making is evolving – here, I've stepped away from piano, added vibraphone and guitar, and have taken time to concentrate more on the compositional aspects. I see myself developing not just in jazz terms, but also influenced by my classical training." Broken Circles clearly mirrors that concept of self-awareness, maturity and confidence.

Jure Pukl - tenor & soprano saxophone
Charles Altura - guitar
Joel Ross - vibraphone
Matt Brewer - double bass
Kweku Sumbry - drums

Recorded at Samurai Recording Studios, Astoria, NY (May 10 2019)

turbobit скачать
gigapeta скачать


Профиль
(21.02.20 - 05:10) - Шурка:

Спасибо, Агент! Jure Pukl из Словении здесь ещё и на бас-кларнете играет (6 тема)

Профиль
(22.02.20 - 08:59) - 007:

Шурка, пожалуйста!

Профиль
(4.03.20 - 11:17) - 007:

Trubadur, пожалуйста!