Исполнителей:
2650
| Альбомов:
76001
| Видео:
980
---
Главная
»
Музыка
Jonathan Batiste - Times In New Orleans (2005)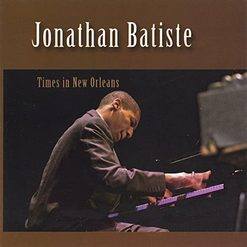 Исполнитель:

Jonathan Batiste

Название альбома:

Times In New Orleans

Год выпуска:

2005

Формат файлов:

MP3@320K/s

Размер архива:

155,4 MB

Скачать с:

turbobit/gigapeta/rapidgator/katfile

1. Misunderstood (10:38)
2. Redbeans (07:03)
3. Bowlegs (05:04)
4. Body and Soul (06:55)
5. Township (05:37)
6. On The River Front (05:32)
7. Straight No Chaser (08:26)
8. Body And Soul (Afro Version) (06:10)
9. Theme Music (10:14)

Do a Google or Yahoo search on the name Jonathan Batiste and the first listing is for an Atlanta real estate agent. No offense to Atlanta's Mr. Batiste, but in the very near future his first place listing maybe in jeopardy. You see, the other Jonathan Batiste is an up and coming pianist hailing from New Orleans and if his recent performance at the New Orleans Jazz & Heritage Festival is any indication of things to come, he will soon occupy the top spot on Google, Yahoo and an infinite number of lists that keep track of top jazz artists.

As an 18 year-old Julliard freshman, Jonathan Batiste already has over 10 years' on-stage performing experience starting as a percussionist in his family's group, the Batiste Brothers Band. A switch to piano at age 11 was a fortunate decision for music fans. And while he is clearly still developing his own musical voice, at this stage in his musical career Batiste is one of the most exciting young artists to hit the jazz scene in years. In a recent Times-Picayune interview prior to Jazz Fest, Batiste stated he had one simple goal: "To get people moving. After sitting through his set, it's appropriate to say, "Mission accomplished.
Most of the music performed was from Batiste's first CD, Times in New Orleans. Produced by Batiste and his father Michael, this is a rare opportunity to sample the work of a developing master. As an added bonus (or lagniappe as it's called in New Orleans), this CD features performances by other "young cats with bright futures in the music world including bassist Nori Naroka; drummers Jason Marsalis and Joey Peoples; saxophonists Samir Zarif and Derek Douget; and trumpeters Andrew Baham, Maurice Brown and Christian Scott. In years to come, this disc may well be sought after for the performances as well as the historical significance of the sessions.
Displaying talent as both composer and performer, six of the disc's nine tracks were penned by Batiste. The opening cut, "Misunderstood is a ten-minute tour-de-force written and arranged by Batiste. Zarif's soprano solo is solid and Marsalis' drumming demonstrates the drive and consistency that makes him one of the most in-demand drummers in the Crescent City. But what is most striking about this performance is Batiste's own playing. He sets the tone and pace and has the maturity to allow the other musicians to do what they do best. His playing is at times both simple and complex, but it is always right where it should be. Graced by the Creator with exceptionally long hands and fingers, he makes difficult techniques seem routine.

"Red Beans, the second cut, starts off like the perfect number leading to a break for the band. An up-tempo blues, it features great solo work by Batiste and in it's structure and performance would not be out of place on a 1950's Blue Note release. But if you want a sense of Batiste's versatility, listen to both interpretations of the Johnny Green classic, "Body and Soul.

Jonathan Batiste - piano
Samir Zarif , Derek Douget - sax
Andrew Baham, Maurice Brown, Christian Scott - trumpet
Nori Naroka - bass
Jason Marsalis, Joey Peoples - drums

turbobit скачать
gigapeta скачать
rapidgator скачать
katfile скачать


Профиль
(24.01.21 - 09:07) - 007:

pula2012, пожалуйста!