Исполнителей:
2651
| Альбомов:
87390
| Видео:
1024
---
Главная
»
Музыка
John La Porta - The Jazz Message of John La Porta (1956)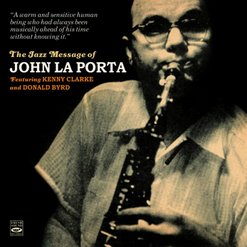 Исполнитель:

John La Porta

Название альбома:

The Jazz Message of John La Porta

Год выпуска:

2021

Формат файлов:

MP3@320K/s

Размер архива:

134,2 MB

Скачать с:

turbobit/gigapeta/rapidgator/katfile

01. Budo (7:32)
02. IMarried An Angel (6:59)
03. The Jazz Message (8:02)
04. Volcano (6:02)
05. La Porta—Thority (5:54)
06. I Hear A Rhapsody (4:48)
07. Will Wail (7:06)
08. Yesterdays (6:00)
09. lay, Fiddle, Play (4:33)

Back in the 50's, John La Porta was the rare bird among the alto saxophonists. He played like no one else, and these 1956 recordings are a poignant signature of his stimulating profile. La Porta's sound and phrasing were extremely distinct. His playing was emotionally striking, with a hard, plunging attack that underlines the solidity of his style, spiced with an occasional nod to Charlie Parker but without being overwhelmingly influenced by Bird.

La Porta builds up intriguing solos, cohesive and well-shaped from individual ideas, as is evidenced in charging, up-tempo performances like Budo and Volcano. He also stands out in the introspectively impressive Yesterdays, which is almost entirely his showcase. The other horn on Jazz Message is trumpeter Donald Byrd. He is in flowing form, playing with a feeling for wholeness in his choruses, as he demonstrates in Volcano and La Porta—Thority.

In the rhythm section, Kenny Clarke's vital presence is constantly felt. His ever swinging drumming, together with the dependable and melodic voice of Wendell Marshall on bass, goes along effortlessly and effectively, pursuing the feeling and the changes of the tunes. They both take creative advantage of their solo space on Message and Volcano. Pianists Horace Silver and Ronnie Ball, either merging with the rhythm section or in their solos, contribute greatly to the success of these performances. In Budo and Message, Horace swings with his roaring depth of pulsation, and in I Married an Angel, he also shows how smooth and deep he can be when playing a ballad.

Throughout the second date, Ronnie is shown as a subtle and imaginative pianist, with a constant and throbbing interest in ideas —I Hear a Rhapsody and Play, Fiddle, Play are both good examples. The entire album is an excellent endeavor thanks to the cohesive work of the musicians involved in the collective quintet.—Jordi Pujol

Album details

Sources:
Tracks #1-3, from the LP "The Jazz Message" (Savoy MG 12064)
Tracks #4-9, from the LP "Klook's Clique" by Kenny Clarke featuring John La Porta (Savoy MG 12065)

Personnel:
Donald Byrd, trumpet; John La Porta, alto sax; Horace Silver (#1-3) or Ronnie Ball (#4-9) piano; Wendell Marshall, bass; Kenny Clarke, drums.
Recorded in Hackensack, NJ, January 30 (#1-3) and February 6 (#4-9), 1956

Fresh Sound Records – FSR-CD 1111

turbobit скачать
gigapeta скачать
rapidgator скачать
katfile скачать


Профиль
(3.03.22 - 07:10) - 007:

pula2012, пожалуйста!