Исполнителей:
2650
| Альбомов:
69994
| Видео:
976
---
Главная
»
Музыка
John DiMartino - Passion Flower (2020)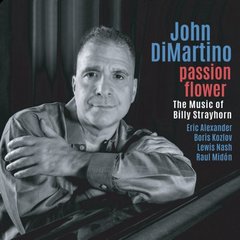 Исполнитель:

John DiMartino

Название альбома:

Passion Flower

Год выпуска:

2020

Формат файлов:

MP3@320K/s

Размер архива:

158,7 MB

Скачать с:

turbobit/gigapeta

1. Johnny Come Lately (5:17)
2. Lush Life (4:20)
3. Rain Check (4:19)
4. Star-Crossed Lovers (Pretty Girl) (4:38)
5. Isfahan (Elf) (6:57)
6. Chelsea Bridge (5:59)
7. Daydream (6:33)
8. Passion Flower (4:51)
9. U.M.M.G. (3:34)
10. Blood Count (3:37)
11. Take The A Train (4:15)
12. A Flower Is A Lovesome Thing (4:44)
13. Absinthe (Lament For An Orchid) (4:09)
14. Lotus Blossom (2:34)

Billy Strayhorn's music has been an essential part of DiMartin's repertoire since the beginning of his forty-five year professional music career. He recalls, "My first encounter with Strayhorn's music was through an older cousin who gave me a recording of Chet Baker and Russ Freeman's version of Lush Life and requested that I learn the tune." DiMartino was just 15 years old at the time (ironically, Strayhorn's age when he wrote the piece0> John has been entranced with the composer's music ever since.

The next exposure to Strayhorn's music was hearing Grover Washington's recording of Passion flower. John notes: "It's a beautiful Bob James arrangement and probably the most infrequently played track on Grover's Mr. Magic CD. Pianist Bobby Tucker (accompanist to Billie Holiday & Billy Eckstine) was a mentor to me. He gave me th music to A Flower Is a Lovesome Thing. In recent years I have been performing Strayhorn's music with Paquito D;'Rivera. Executive producer Neville Grusd heard a concert we did at Flushing New York Town Hall which led to his interest in producing this recording.

Joining DiMartino are three of his fellow first call instrumentalists on the New York City jazz scene. The quartet kicks things off charging straight ahead on Johnny Come Lately. DiMartino Says, " I often play this as an opening tune on gigs. "Boris Kozlov's walking bass ushers in the song making way for extended soloing by DiMartino and Eric Alexander who then engage in a series of eight bar exchanges with Lewis Nash, whose solo takes things out. Vocalist Raul Midon is featured on Strayhorn's poignant Lush Life.

John Di Martino - piano
Eric Alexander - tenor saxophone
Boris Kozlov - bass
Lewis Nash - drums
Raul Midón - vocal (Lush Life)

turbobit скачать
gigapeta скачать


Профиль
(14.04.20 - 21:26) - 007:

Vickers, pula2012, пожалуйста!