Исполнителей:
2650
| Альбомов:
64180
| Видео:
970
---
Главная
»
Музыка
The Jimmy Heath Big Band - Turn Up The Heath (2004/2006)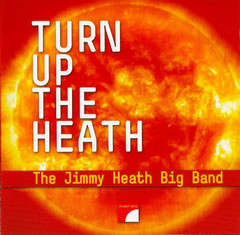 Исполнитель:

The

Jimmy Heath

Big Band

Название альбома:

Turn Up The Heath

Год выпуска:

2006

Формат файлов:

MP3@320K/s

Размер архива:

161,4 MB

Скачать с:

turbobit.net

1. Big P
2. Heritage Hum
3. Gemini
4. Like A Son
5. I'm Glad There's You
6. One For Juan
7. Project S
8. Sources Says
9. No End
10. Basic Birks

Back in the early '90s I asked tenor saxophonist Jimmy Heath if he planned a followup to his Grammy-nominated album, Little Man Big Band (Verve, 1992). As I recall, he smiled politely but didn't really answer the question. Now he has and with an exclamation point. Describing how his latest superb album, Turn Up the Heath, came about, Jimmy writes, "The Jazz Masters award [from NEA and IAJE] in 2003 made it possible. As to why: "...there were so many orchestrations I wanted to document. There are also special people he wanted to praise and remember, and it is entirely appropriate that Heath should begin with "Big P, a brisk and warmhearted salute to his late brother, bassist Percy Heath. "Gemini was written for Heath's daughter, Roslyn; "Basic Birks for Dizzy Gillespie; "Like a Son for alto saxophonist Antonio Hart; "Heritage Hum for "my people, and the snappy samba "One for Juan for that ubiquitous purveyor of Colombian coffee, Juan Valdez. Completing the program are Heath's "Project S and "Sources Say," and his arrangements of Kenny Dorham's "No End and the standard "I'm Glad There Is You (the last an exquisite showpiece for Heath's fluent, evocative tenor and Jeb Patton's lucid piano). Heath's tenor is also heard on "Heritage Hum, "Gemini, "One for Juan, "Project S and "Basic Birks, his soprano on "No End. As for his colleagues, Heath says he met many of them "while playing with the Dizzy Gillespie Alumni All-Star Band, a reasonable assertion, as each one is an all-star, whether soloing or hunkering down as a member of the ensemble. The rhythm section, comprised of Patton, bassist Peter Washington and drummer Lewis Nash, is as solid and perceptive as they come, and Washington does Percy's memory proud on "Big P. The remarkable cavalcade of commendable improvisers includes Patton; Washington; Hart; trumpeters Greg Gisbert, Sean Jones, Terell Stafford and Michael Philip Mossman; trombonists Benny Powell, Slide Hampton, Steve Davis, Jason Jackson and John Mosca; alto Mark Gross; tenors Charles Davis, Bobby LaVell and Andres Boiarsky; baritones Jay Branford and Gary Smulyan; and flutist Lew Tabackin, a standout on "Gemini. Heath's charts are delightful, fairly bursting with energy and good humor, and if I have my personal favorites, I'm sure you will too. Even fourteen years onward, this is one sequel that was well worth the wait. Turn Up the Heath, crank up the volume, relax and enjoy.

Personnel: (Tracks 1,2,4-7) Jimmy Heath: leader, tenor sax; Frank Greene, Nick Marchione, Michael Philip Mossman, Terell Stafford: trumpet; Mark Gross: alto sax, flute; Antonio Hart: alto, soprano sax, flute; Bobby LaVell, Charles Davis: tenor sax; Jay Branford: baritone sax; John Mosca, Slide Hampton, Benny Powell: trombone; Douglas Purviance: bass trombone; Jeb Patton: piano; Peter Washington: bass; Lewis Nash: drums. (3,8-10) Jimmy Heath: leader, tenor sax; Greene, Mossman, Greg Gisbert, Sean Jones: trumpet; Gross: alto sax, flute; Hart: alto, soprano sax, flute; LaVell, Andres Boiarsky: tenor sax; Gary Smulyan: baritone sax; Mosca, Steve Davis, Jason Jackson: trombone; Purviance: bass trombone; Patton: piano; Washington: bass; Nash: drums. Guest artists: Lew Tabackin: flute (3); Joe Gonzales: congas (2)

скачать


Профиль
(17.11.18 - 18:27) - 007:

Vickers, пожалуйста!