Исполнителей:
2652
| Альбомов:
89306
| Видео:
1029
---
Главная
»
Музыка
Jimmy Cobb Featuring Roy Hargrove - Remembering U (2016)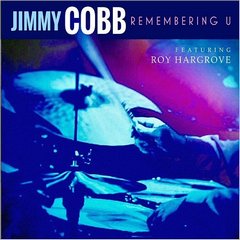 Исполнитель: Jimmy Cobb

,

Roy Hargrove Название альбома:

Remembering U

Год выпуска:

2019

Формат файлов:

MP3@320K/s

Размер архива:

152,6 MB

Скачать с:

turbobit/gigapeta

1. Eleanor (Feat. Roy Hargrove) (6:06)
2. Pistachio (3:36)
3. Man In The Mirror (6:18)
4. Remembering U (4:56)
5. JC's AC (Feat. Roy Hargrove) (4:42)
6. Composition 101 (4:39)
7. I Just Can't Stop Loving You (6:48)
8. Willow Weep For Me (Feat. Roy Hargrove) (4:10)
9. W.K. (4:48)
10. Cedar's Rainbow (6:23)
11. I Don't Wanna Be Kissed (By Anyone But You) (5:51)
12. Cobb's Belle (5:53)

There's more than a little history behind Remembering U. The disc finds veteran drummer Jimmy Cobb (87 at the time of this recording) bringing a lifetime of swing to bear. But the sessions also were among the last recorded by trumpeter Roy Hargrove; the album itself was the final project for legendary engineer Rudy Van Gelder.

Moreover, the record doesn't disappoint. Although there's nothing earth-shaking about the performances, the music is masterfully played and full of rhythmic vitality. Cobb's touch is light but authoritative, and he maintains an engagingly conversational approach with his trio. On the bluesy "Cobb's Belle," the drummer pulses a minimal hi-hat figure behind a solo from bassist Paolo Benedettini that quietly pushes and pulls against the flow; the two parts sound of a piece. Similarly, the trio's take of Michael Jackson's "Man In The Mirror" gets its groove from the synergy between Cobb's understated boogaloo and pianist Tadataka Unno's crisp, gospel-schooled chording.

Cobb and Hargrove go way back—the drummer first heard him when the trumpeter was just a kid in Dallas—and their rapport is obvious in the way Cobb's ride regularly anticipates accents in Hargrove's solo on "Eleanor." But it's the bluesy "Willow Weep For Me" that throws the brightest sparks, with Cobb laying back just enough to ensure that the pocket is deep and soulful, while Hargrove's vocabulary of staccato pops and vocalized smears takes full advantage.

By J.D. Considine

Personnel: Jimmy Cobb, drums; Paolo Benedettini, bass, Tadataka Unno, piano; Roy Hargrove, trumpet (1, 5, 8), flugelhorn (1); Javon Jackson, tenor saxophone (1)

turbobit скачать
gigapeta скачать


Профиль
(12.03.20 - 12:28) - jimmy:

007, спасибо большое за прекрасный альбом!

Профиль
(2.04.20 - 08:28) - 007:

jimmy, пожалуйста!