Исполнителей:
2651
| Альбомов:
80669
| Видео:
1009
---
Главная
»
Музыка
Jeff Lederer - Eightfold Path (2021)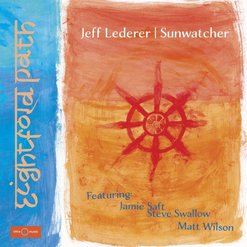 Исполнитель:

Jeff Lederer

Название альбома:

Eightfold Path

Год выпуска:

2021

Формат файлов:

MP3@320K/s

Размер архива:

112,2 MB

Скачать с:

turbobit/gigapeta/rapidgator/katfile

01. Right Concentration
02. Right Speech
03. Right Effort
04. Right Action
05. Right Resolve
06. Right View
07. Right Livelihood
08. Right Mindfulness

Knowingly or unknowingly, we are all on the Dharma path. It doesn't matter if you are a Buddhist, Christian, Hindu, Muslim, Jain, or Satanist. Okay, maybe not Satanist, but we are all in our own way desiring some form of enlightened awakening and the end of suffering. During the height of the pandemic, saxophonist Jeff Lederer assembled his Sunwatcher quartet to explore this noble Eightfold Path. As students of the path are told, you must walk hand in hand with those who came before you, the hair of your eyebrows entangled in theirs, seeing what they see and hearing with the same ears. Sunwatchers with Jamie Saft (organ and piano), bassist Steve Swallow, and drummer Matt Wilson combine with Lederer's tenor saxophone to see, hear, and drink from the enlightened sounds of John Coltrane, Albert Ayler and Pharoah Sanders.

Eight compositions track the eightfold path. Beginning with "Right Concentration" and Wilson striking his mini gong eight times, the music rushes in with full on organ and tenor storm, as if to acknowledge that enlightenment can arrive in an instant. It can also be a lifelong undertaking: "Right Effort" is a most gentle piece of samadhi or meditative stillness with Saft swapping organ for piano, Wilson sticks from brushes, and Swallow delivering a most compassionate bass solo. The halting nature of "Right Resolve" is a vehicle for Saft's organ evangelism delivering the message. With "Right View," Lederer carries a Coltrane-like tranquility and calm as does "Right Action" which borrows a blues drenched "Love Supreme" vibe. Although "Right Mindfulness," which ends the disc, is just another spoke on the dharma wheel, it sums up the Sunwatcher's undertaking with its most compassionate prayer. Wilson's gong and Saft's piano re- echo and set a backdrop for Swallow's solo and Lederer's gentle saxophone awakening. A word of advice, if you do meet the Sunwatchers on the road, the command to kill them is a metaphor and should not be taken literally. ~ Mark Corroto

Jeff Lederer – tenor saxophone, gongs and bells
Jamie Saft – organ, piano
Steve Swallow – bass
Matt Wilson – drums and percussion

Label: little(i)music

turbobit скачать
gigapeta скачать
rapidgator скачать
katfile скачать


Профиль
(14.10.21 - 10:48) - 007:

pula2012, пожалуйста!