Исполнителей:
2650
| Альбомов:
69972
| Видео:
976
---
Главная
»
Музыка
Jacqui Naylor - Sunshine And Rain (2015)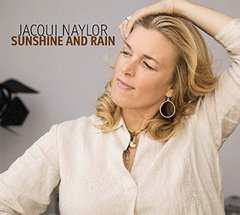 Исполнитель:

Jacqui Naylor

Название альбома:

Sunshine And Rain

Год выпуска:

2015

Формат файлов:

MP3 - CBR 320 Kbps

Размер архива:

164 MB

Скачать с:

turbobit.net

1. Angel Eyes
2. Moon River
3. Sunshine and Rain
4. I Promise
5. Skylark
6. Back to Black
7. Black Coffee
8. Celebrate Early and Often
9. Losing My Religion
10. Ain't No Sunshine
11. Love for Sale
12. Blue Moon
13. Easy Ride From Here
14. Miss You
15. Once in a Lifetime
16. My Funny Valentine

Jacqui Naylor is not an easy artist to categorize. There are times when she performs straight-ahead vocal jazz, but at other times she favors more of a folk-rock/adult alternative approach. Depending on the mood she is in at a given moment, the northern Californian can bring to mind anyone from Cassandra Wilson or British jazz vocalist Claire Martin to Sarah McLachlan or Shawn Colvin she is as comfortable among jazz improvisers as she is in the singer/songwriter world.

During one of her live performances, Naylor has no problem singing smoky jazz one minute and folk-rock or adult alternative the next and there are times when she blurs the line between the two. Naylor, who is very jazz-friendly but far from a rigid jazz purist, brings a long list of influences to her introspective work influences ranging from Billie Holiday, June Christy, and Nina Simone to Tracy Chapman, Natalie Merchant, Carole King, and Sheryl Crow. That is an unlikely combination of influences, certainly, but it is one that works well for Naylor (who has used all of them to fashion a personal, recognizable style of her own). Naylor has a highly diverse repertoire; on-stage, she is likely to perform a Tin Pan Alley standard right after something by the Rolling Stones or Talking Heads (in addition to performing songs of her own). Naylor is not an overly aggressive or forceful type of singer; she favors subtlety, restraint, and understatement, which are things that Holiday and Christy (one of the goddesses of jazz's cool school) were both masters of.

скачать


Профиль
(12.05.19 - 15:55) - Asmadey:

Спасибо за новое имя, dear Knyaz! Всего Вам самого джазового!