Исполнителей:
2651
| Альбомов:
79994
| Видео:
1008
---
Главная
»
Музыка
Henry Armburg Jennings Quintet - Out Of The Starting Blocks (2007)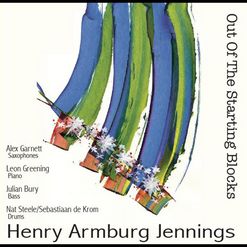 Исполнитель:

Henry Armburg Jennings Quintet

Название альбома:

Out Of The Starting Blocks

Год выпуска:

2007

Формат файлов:

MP3@320K/s

Размер архива:

141,5 MB

Скачать с:

turbobit/gigapeta/rapidgator/katfile

01. Resurrection
02. Alone Together
03. Irisvale Shuffle
04. On A Misty Night
05. What Is This Thing Called Love?
06. Stardust
07. Daahoud
08. Up Jumped Spring
09. My Little Suede Shoes
10. Irisvale Shuffle (alt. take)

Henry Armburg Jennings sounds like the name of a wealthy Wall Street banker, but in reality he's a very promising young British trumpeter who has emerged recently from Bill Ashton's NYJO stable. Out of the Starting Blocks is Jennings' first CD under his own name and it promises to be the beginning of a long and illustrious recording career.

Jennings' playing is firmly in the bebop tradition as evidenced not just by the clear influence of Clifford Brown but by his choice of material, which includes Brownie's Daahoud, Parker's My Little Suede Shoes and Tadd Dameron's On a Misty Night. Indeed, the very first track - a Jennings original called Resurrection - has a distinct Parker/Gillespie feel to it.

The quintet also features the versatile saxophonist Alex Garnett whose beefy, booting tenor playing is heard to good advantage on several tracks, notably Daahoud. Garnett also plays some fiery alto solos on Resurrection and My Little Suede Shoes. Jennings uses a mute to good effect on Alone Together, andon the attractive Freddie Hubbard waltz Up Jumped Spring - unless my ears deceive me - he switches to flugelhorn, although the sleeve-note does not mention this. Leon Greening contributes some inventive piano solos and Julian Bury is on fine form on the bass. Sebastiaan de Krom and Nat Steele share the drum kit with equal panache.

The veteran alto player Peter King has played several times with Jennings and rates him very highly. On the evidence of this CD, it is easy to understand why.

George Stacy

Henry Armburg Jennings - Trumpet
Alex Garnett - Tenor sax, alto sax
Leon Greening - Piano
Julian Bury - Double bass
Sebastiaan de Krom - Drums (tracks 1, 2, 3, 5, 7, 10)
Nat Steele - Drums (tracks 4, 6, 8, 9)

HAJCD 01

turbobit скачать
gigapeta скачать
rapidgator скачать
katfile скачать


Профиль
(28.07.21 - 20:59) - Asmadey:

Спасибо, dear 007 за все Ваши выкладки! Всего Вам самого джазового!

Профиль
(29.07.21 - 21:59) - 007:

Asmadey, пожалуйста!