Исполнителей:
2650
| Альбомов:
61366
| Видео:
969
---
Главная
»
Музыка
Harold Ashby - What Am I Here For? (1990)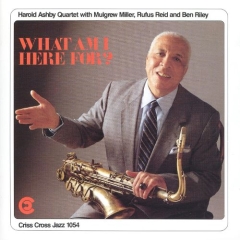 Исполнитель:

Harold Ashby

Название альбома:

What Am I Here For?

Год выпуска:

1990

Формат файлов:

mp3/320kbps

Размер архива:

158mb

Скачать с:

depositfiles

Tenor saxophonist's quartet w. Mulgrew Miller on piano, Rufus Reid on bass, and Ben Riley on drums, November 30, 1990. It shouldn't be surprising that Harold Ashby has a decidedly Ellington slant to this CD. A tenor saxophonist in the mold of Ben Webster (who first introduced him to the maestro) Ashby was a frequent substitute on call until he replaced the departed Jimmy Hamilton in 1968, where he remained until the year after Ellington's death. On this relatively rare date as a leader, the veteran devotes half of his program to music from the vast Ellington repertoire, including a strutting take of "What Am I Here For?" and a lush treatment of "Mood Indigo" that initially features Mulgrew Miller's old-fashioned stride piano and Rufus Reid's arco bass in unison with Ashby. An up-tempo "C Jam Blues" is kicked off by drummer Ben Riley, while the leader's rich vibrato reins supreme in their interpretation of the lovely "Prelude to a Kiss." The final track from the Ellington book is Juan Tizol's "Perdido," which wraps the CD with a flourish. Most of the non-Ellington tracks that make up the rest of this release are favorites of the swing era, with the exception of the easygoing and somewhat romantic bossa nova "Poinciana." Although this session was recorded in New York City, the erratic distribution of the Criss Cross label makes this CD somewhat more difficult to find than it should be for many swing fans. ~ Ken Dryden

1.I Can't Get Started (5:29)
2.What Am I Here For? (7:33)
3.Mood Indigo (5:06)
4.Frankie And Johnny (7:39)
5.Once In A While (4:52)
6.Poinciana (8:59)
7.C Jam Blues (7:45)
8.Prelude To A Kiss (6:53)
9.September In The Rain (8:25)
10.Perdido (6:15)

Recorded In New York City
November 1990. Criss Cross

Harold Ashby - tenor sax
Mulgrew Miller - piano
Rufus Reid - bass
Ben Riley - drums

скачать


Профиль
(21.02.18 - 15:34) - d-project:

Приветствую! Нельзя ли восстановить этот альбом? Заранее спасибо!