Исполнителей:
2650
| Альбомов:
64225
| Видео:
970
---
Главная
»
Музыка
Greg Reitan - Daybreak (2011)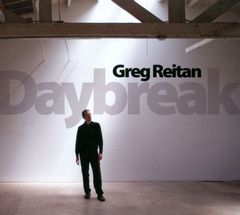 Исполнитель:

Greg Reitan

Название альбома:

Daybreak

Год выпуска:

2011

Формат файлов:

mp3 320 kbps

Размер архива:

123,1 mb

Скачать с:

depositfiles

Tracklist:

1. Daybreak
2. Once Upon A Summertime
3. Monk's Mood
4. Five Four
5. The Bells Of Soledad
6. Toy Tune
7. Chelsea Bridge
8. Iridescence
9. Blue In Green
10. The Great Pumpkin Waltz
11. Lament

Greg Reitan: piano; Jack Daro: bass; Dean Koba: drums.

Greg Reitan has, since 1995, carved out a career as an award-winning composer for television and film. It wasn't until 2009, however, that the Los Angeles-based pianist released his first jazz CD, one of the top piano trio recordings of the year, Some Other Time (Sunnyside Records). Reitan followed up this excellent debut with another top-level outing, Antibes (Sunnyside Records, 2010), and now he adds Daybreak, again using the trio format, and again with outstanding results.

There's something to be said for sticking for with the same record label, as Bill Evan' tenure at Riverside Records suggests and Thelonious Monk's stint on Riverside and then Columbia Records also prove. The iconic pianists were able to establish game plans, their artistic visions allowed to unfold. Daybreak employs the same game plan as that of his freshman and sophomore outings: collect some time-tested standards featuring refined, beautiful melodies; throw in something unexpected; and add some of the leader's own engaging tunes.
Dan McClenaghan

скачать


Профиль
(13.05.19 - 19:57) - zwg:

Hello is it possible to re-upload this one please? Thanks.