Исполнителей:
2650
| Альбомов:
64180
| Видео:
970
---
Главная
»
Музыка
George Braith - Two Souls In One (1963) re-up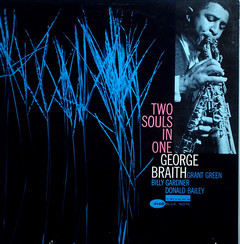 Исполнитель:

George Braith

Название альбома:

Two Souls In One

Год выпуска:

1963

Формат файлов:

MP3@320K/s

Размер архива:

96,3 MB

Скачать с:

turbobit.net

01. Mary Ann
02. Home Street
03. Poinciana
04. Mary Had A Little Lamb
05. Braith-A-Way

In some ways, it's hard to view George Braith's playing a soprano and alto saxophone simultaneously as anything other than a gimmick, especially since it's nearly presented that way on his debut album, Two Souls in One. Braith plays the two horns on the folk calypso "Mary Ann" and the nursery rhyme "Mary Had a Little Lamb," limiting himself to the melody and bridges, probably because it's hard to finger anything else but simple lines when you're playing two instruments at once. Furthermore, the tone of the double sax is jarring thin, reedy and layered with harmonic overtones, it sounds inhuman and utterly bizarre. Rahsaan Roland Kirk, who pioneered double reeds, explored the harmonic possibilites inherent with the dueling instruments, but Braith saves his explorations for solo alto excursions. He's quite good at these alto solos, as the elegant "Poinciana" and the hot solos of "Mary Had a Little Lamb" prove, but he sounds restrained, not freed, by the double horn. Nevertheless, Two Souls in One remains an enjoyable, occasionally rewarding, collection of soul-jazz and cautiously adventurous hard bop. Guitarist Grant Green and organist Billy Gardner both shine during their time in the spotlight, particularly in the infectious rhythms of "Mary Ann." And Braith himself does leave a large impression, especially in the 14-minute tour de force "Braith-Away," which reveals the full strength of his talent instead of simply hinting at it.

George Braith - soprano saxophone, stritch
Billy Gardner - organ
Grant Green - guitar
Donald Bailey - drums

скачать


Профиль
(17.11.18 - 18:26) - 007:

Vickers, пожалуйста!