Исполнителей:
2651
| Альбомов:
80775
| Видео:
1009
---
Главная
»
Музыка
Frank Kimbrough - Ancestors (2021)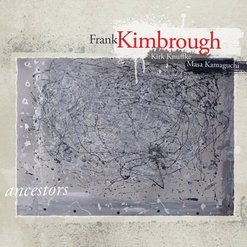 Исполнитель:

Frank Kimbrough

Название альбома:

Ancestors

Год выпуска:

2021

Формат файлов:

MP3@320K/s

Размер архива:

170 MB

Скачать с:

turbobit/gigapeta/rapidgator/katfile

1. Waiting in Santander (6:32)
2. Air (7:27)
3. November (8:04)
4. Ancestors (7:52)
5. Eyes (2:05)
6. Jimmy G (7:31)
7. Beginning (9:52)
8. Union Square (4:05)
9. Over (4:46)
10. Solid (4:10)
11. All These Years (9:11)

It is hard to listen to a posthumous released recording without reflecting on what the world has lost in their absence. Pianist and composer Frank Kimbrough was an individual who was beloved by all who knew him. A true musician's musician and mentor to many, Kimbrough's legacy lives on in his work and the lives that he touched. His passing in 2020 has left a hole in the heart of the jazz world.

Kimbrough's Ancestors is a recording that encompasses much of the leader's personality, depth, and approach to music making. Assembling a drummer-less trio with cornetist Kirk Knuffke and bassist Masa Kamaguchi, Kimbrough brought his spontaneity and introspection to the fore on a collection of original compositions and improvisations.

The trio had been a favorite ensemble for Kimbrough over the years, the format being able to balance form and freedom of expression. The leader's appreciation for the free-wheeling, drummer-less trio of woodwind iconoclast Jimmy Giuffre is apparent in Kimbrough's choice to eschew the restrictive pulse of a drummer in favor of horn, piano, and bass. Kimbrough's choice of trio mates was sublime.

Pianist and cornetist were introduced by their mutual friend and collaborator, drummer Matt Wilson. A rapport was quickly established with regular gigs with Wilson, Ben Allison, and Jay Anderson. Kimbrough and Knuffke's friendship blossomed as they began to hang more and more at Kimbrough and partner Maryanne de Prophetis's Queens home. When Kimbrough proposed recording this trio album, Knuffke had never played with Kamaguchi. The bassist's flexible, physical style was perfect for the interplay that Kimbrough was after for the recording.

True to form, Kimbrough strayed from rehearsing the ensemble in an effort to maintain a freshness in their interplay. The group came together without playing a prior note at the Samurai Hotel Recording Studio in Astoria on June 3, 2017. Kimbrough brought a number of original tunes for the session and provided space for improvised duos between the three members.

The recording begins with Kimbrough's rhapsodic blues, "Waiting in Santander," a piece he wrote while waiting, with great frustration, for a piano for a gig in the Spanish city. The three voices of the instrumentalists seem to float by on "Air," while the trio plays Kimbrough's sedate "November" in cool retrospection. The title tune is a warm and humble rumination on Kimbrough's southern roots, while "Eyes" is an expressive improvisation between the stuttering cornet of Knuffke and Kimbrough's piano percussion.

The melancholy "Jimmy G" is a tribute to Giuffre, one of the true innovators in small group improvisation, with an off kilter but familiar piano harmony with a freely played cornet and wandering bass. "Beginning" is a noir tinted piece with an optimistic feel provided by Kimbrough's bright chords, Kamaguchi's spry bass, and Knuffke's lilting cornet. Beginning as a subtle back and forth, "Union Square" is a resonant duo between the bassist and cornetist.

Kamaguchi's insistent strumming introduces Kimbrough's "Over," a playful tune in the melodic realm of Monk and Paul Motian. Otherworldly piano overtones are met with Knuffke's strained call on the duo improv, "Solid." The program concludes with Maryanne de Prophetis's "All These Years," a tune she wrote in memory of her father who passed in 2003. Kimbrough loved her father and the tune, playing it frequently in his programs. It now makes a beautiful finale to this haunting recording.

Kimbrough and de Prophetis spent a lot of time with the recording after it was done. They both loved it very much but had not honed it into a manageable recording. Kimbrough had given pieces of Ancestors to Knuffke and Kamaguchi, praising their performances and hoping for eventual release. After Kimbrough's passing, de Prophetis and Knuffke listened back and discussed how best to release, deciding to keep most everything they laid down that day, and mainly first takes, at that.

The world is just beginning to miss Frank Kimbrough and his gifts, both personal and musical. It is a consolation that he left listeners with so much and that now he has joined the ancestors.

Frank Kimbrough - piano
Masa Kamaguchi - bass
Kirk Knuffke - cornet

Sunnyside Records 1639 (US)

turbobit скачать
gigapeta скачать
rapidgator скачать
katfile скачать


Профиль
(19.09.21 - 09:24) - 007:

pula2012, пожалуйста!