Исполнителей:
2650
| Альбомов:
73121
| Видео:
977
---
Главная
»
Музыка
Francesco Bearzatti - Zorro (2020)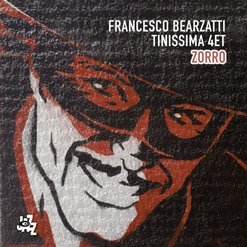 Исполнитель:

Francesco Bearzatti

Название альбома:

Zorro

Год выпуска:

2020

Формат файлов:

MP3@320K/s

Размер архива:

90,5 MB

Скачать с:

turbobit/gigapeta/rapidgator/katfile

1. Zorro (0:58)
2. Tierra India (2:18)
3. El Regreso (4:52)
4. Ago Mal (6:09)
5. Bernardo (5:26)
6. Sargento Garcia (4:53)
7. Lolita (4:47)
8. Tornado (4:03)
9. El Triunfo Del Zorro (4:07)

The themed homages of the Tinissima Quartet continue, with their often unexpected trajectories: from Tina Modotti (2008) to Malcolm X (the award-winning X (Suite for Malcolm), 2010), Thelonious Monk (Monk'n'Roll, 2013) and Woody Guthrie (the bold This Machine Kills Fascists, 2015). For its fifth project, the band led by Francesco Bearzatti is inspired for the first time by a fictional character: Zorro. Expected on disc for the spring of 2020, "Zorro" is a sort of imaginative musical biography that is well aligned with the previous field choices of one of the most 'militant' groups of our jazz: adventurous, passionate and daring music, like the vicissitudes of the masked executioner, and how they sided with the people, against the oppression of the powerful.
The career of Francesco Bearzatti (born in Pordenone in 1966) has been taking place for some time on an international dimension. Today the heterogeneous components of his formation resonate in his music: classical studies, metal, popular and modern dance music. A variety of interests that is also found in the collaborations that have led him to play alongside Joe Lovano, Butch Morris, Louis Hayes, Ben Riley, Kenny Wheeler, Randy Brecker, Mark Murphy, Tom Harrell ...

Francesco Bearzatti - tenor sax, clarinet;
Giovanni Falzone - trumpet;
Danilo Gallo - electric bass;
Zeno de Rossi - drums.

turbobit скачать
gigapeta скачать
rapidgator скачать
katfile скачать


Профиль
(19.10.20 - 07:50) - 007:

Шурка, пожалуйста!