Исполнителей:
2650
| Альбомов:
69994
| Видео:
976
---
Главная
»
Музыка
Ferenc Nemeth - Freedom (2020)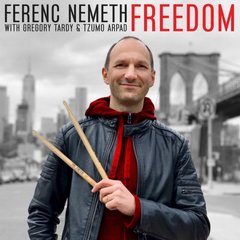 Исполнитель:

Ferenc Nemeth

Название альбома:

Freedom

Год выпуска:

2020

Формат файлов:

MP3@320K/s

Размер архива:

122,5 MB

Скачать с:

turbobit/gigapeta

01. Triumph, Pt. 2 (4:19)
02. Drumterlude, Pt. 1 (1:08)
03. The Peacock (3:45)
04. Drumterlude, Pt. 2 (0:22)
05. Farmboy (3:08)
06. Drumterlude, Pt. 3 (1:13)
07. Floating (4:36)
08. Marrakech (4:45)
09. Freedom (3:10)
10. The Fugitive (5:08)
11. Drumterlude, Pt. 4 (0:24)
12. Dare to Dream (3:59)
13. Get Up (5:53)
14. Drumterlude, Pt. 5 (1:09)
15. Bluefrica (3:09)
16. Soccer Game (3:58)
17. Epilogue (1:52)

As one reviewer put it, "Hungarian-born drummer Ferenc Nemeth is primarily known as the percussive presence behind the music of one-of-a-kind guitarist Lionel Loueke, but roles are reversed on the drummer's triumphant sophomore album. Loueke, saxophonist Joshua Redman and pianist Kenny Werner join forces with, and in support of, Nemeth, forming one of the most potent foursomes on record in 2012." In short, if you are a fan of legendary musicians such as Joshua Redman, Kenny Werner, Brad Mehldau, Art Blakey and others like them, Ferenc Nemeth is a must have for your collection.

"Nemeth's skills as drummer, composer and musical casting agent come together brilliantly on this gripping set of music that takes shape around tides of emotional development. Nemeth captures various states of being in his writing… Nemeth doesn't write in neat, formulaic blocks; he writes in human thoughts and flowing dialogue, making digression and cohesion key components of his work."

For a limited time Ferenc is giving away a free single from each of his three albums. Just enter your name and email address and you will be immediately sent the download link to the free tracks.

NATE CHINEN of NEW YORK TIMES – "Ferenc Nemeth is a nimble Hungarian drummer with a feel for African rhythm."

DAN MCCLENAGHAN of ALL ABOUT JAZZ – "Triumph's approach is similar to pianist Brad Mehldau's Highway Rider (Nonesuch, 2010)—a thematic set shaped like a symphony, with each piece leading into the next, interlocked and sectioned by interludes."

AMAZON EDITORIAL REVIEW – "On "Triumph" Ferenc Nemeth has created a journey for the ages. An epic work!"

MARK F. TURNER of ALL ABOUT JAZZ – "Ferenc Nemeth represents the new breed of post-Art Blakey jazz drummers, ushering in their own bravado and confident leadership."

Greg Tardy - sax
Tzumo Arpad - piano/keys
Ferenc Nemeth - drums/percussion/vocals

turbobit скачать
gigapeta скачать


Профиль
(24.03.20 - 20:56) - Trubadur:

Талантливый и перспективный музыкант.Весьма достойно выглядят и его партнеры по трио.Благодарю!

Профиль
(29.03.20 - 20:07) - 007:

Trubadur, пожалуйста!