Исполнителей:
2650
| Альбомов:
64180
| Видео:
970
---
Главная
»
Музыка
Eric Reed & Cyrus Chestnut - Plenty Swing, Plenty Soul (2009)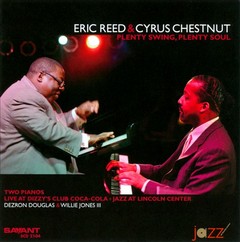 Исполнитель: Eric Reed

&

Cyrus ChestnutНазвание альбома:

Plenty Swing, Plenty Soul

Год выпуска:

2010 Savant Records

Формат файлов:

MP3@320K/s

Размер архива:

173,6 MB

Скачать с:

depositfiles

Piano duo recordings can be a tricky thing: finding a balance that allows each musician to shine while simultaneously keeping in mind that it is a collaborative affair can result either in a seamless piece of cooperative music-making, or a battle of egos that benefits no one. Fortunately, this falls into the former category. With accompaniment by bassist Dezron Douglas and drummer Willie Jones III, Reed and Chestnut are sympathetic players who know when to step forward, when to hold back, and when to meet in the middle. Although seven years apart in age (Chestnut being the older), Reed and Chestnut share somewhat similar backgrounds: both are from large East Coast cities, both began their musical instruction at a very young age via their fathers, and both have gospel training in their backgrounds. That common ground gives them not so much similar styles as an understanding of where the other is rooted, and as they burrow deeper into each of the pieces here drawn from a trio of live gigs at New York's Dizzy's club there are many times when it's near impossible to tell that two pianists are playing, let alone who's doing what although the mix separates Reed and Chestnut by placing one in the left channel and the other in the right, one would have to be extremely fine-tuned to the nuances of each musician's playing to pick them out had the engineer not made it easier. The set consists of standards (a spry "I'll Remember April" opens it), a couple of jazz classics (a rousing version of Duke Ellington's "It Don't Mean a Thing if It Ain't Got That Swing"), and a couple of gospel-themed tunes played solo the classic "Lift Ev'ry Voice and Sing," featuring only Chestnut, and Reed's "Prayer." That the pianistry is exemplary throughout goes without saying, but these two fine musicians and their accompanists elevate their meeting into something greater. ~ Jeff Tamarkin

1. I'll Remember April(14:39)
2. All The Things You Are(12:14)
3. Two Bass Hit(14:36)
4. Lift Ev'ry Voice And Sing(6:17)
5. It Don't Mean A Thing If It Ain't Got That Swing(9:40)
6. Prayer( :49)
7. Plenty Swing, Plenty Soul(8:09)

Personnel: Cyrus Chestnut (piano); Eric Reed (piano); Willie Jones III (drums).

Recording Date March 7, 2009

скачать


Профиль
(19.05.17 - 13:42) - MrJzb:

Прекрасный дуэт,спасибо!