Исполнителей:
2650
| Альбомов:
74050
| Видео:
977
---
Главная
»
Музыка
Eric Boeren - Coconut (2012)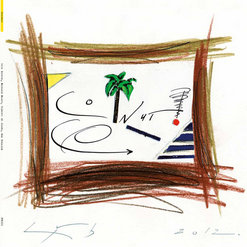 Исполнитель:

Eric Boeren

Название альбома:

Coconut

Год выпуска:

2012

Формат файлов:

MP3@320K/s

Размер архива:

135,5 MB

Скачать с:

turbobit/gigapeta/rapidgator/katfile

01. Coconut
02. What Happened At Conway Hall, 1938?
03. Shake Your Wattle
04. The Fish In The Pond
05. Little Symphony
06. Crunchy Croci
07. Crunchy Croci (Continued)
08. Padàm
09. Joy Of A Toy
10. Journal
11. BeeTee's Minor Plea

There are parallels between Ornette Coleman's approach to collective improvisation and that of Dutch avant jazzers from the 1960s onward, so the emergence of a Dutch quartet that pays homage to Coleman's groundbreaking circa-1960 foursome isn't a big surprise. Cornetist Eric Boeren's quartet, whose 2012's recording Coconut is the most recent of several discs finding common ground between Coleman and the Dutch jazz mindset, is not merely a repertory band; indeed, only two tracks out of 11 on Coconut are Coleman compositions. Rather, Boeren who takes on cornetist Don Cherry's instrumental role composed the lion's share of material performed on this intimate live date, finding the meeting point between Coleman's groundbreaking developments in melody, harmony, and group interaction and his own Dutch-schooled, anything-goes improvisational sensibility. Veteran Han Bennink plays only a snare drum here, and he's astounding from the opening moments of the leadoff title track, well named given its ebullient island flair, as he conjures up sounds that suggest timbales, congas yes, maybe even a coconut while Boeren and saxophonist Michael Moore build riffs into melodies into improvised singing dialogues. As Wilbert de Joode transitions into a walking bassline, Bennink moves effortlessly into hyperswing mode beneath Moore's saxophone, whose beautiful tone is all his own even as he dips into Coleman-esque bluesy phrasing.

At over 15 minutes in length, "What Happened at Conway Hall, 1938?" is epic in scope, with thematic material cropping up here and there across a lengthy, suite-like structure. Boeren and Moore engage in telepathic conversations and Bennink shouts his enthusiasm; after a calypso-flavored passage slides into relaxed swing and Moore steps out on alto, the band moves into exploration of pure sound and space, including extended techniques with mouthpieces maybe nobody in this group actually needs a complete musical instrument. The piece closes with a Boeren-Bennink duet until de Joode kicks in with a vamp seguing into "Shake Your Wattle," with Boeren muted yet jaunty and the band uniting in spirited fashion. "The Fish in the Pond" moves into a freer rhythmic space, the horns' long and bluesy lines over de Joode's twisting arco refracting a bit of Coleman's well-known "Lonely Woman" side. With "Little Symphony" and "Joy of a Toy," the quartet treats listeners to a pair of Coleman "leftovers" recorded in July 1960 but not released on LP until over a decade later on Twins. These relatively concise and accessible tunes are delivered with themes intact and expertly played, characteristically swinging through the improvs and featuring group collective interplay that can only come from four musicians with years of experience collaborating in a place like Amsterdam. And a curve ball greets listeners at the disc's conclusion, as the band delivers a sparse but unique and credible read of Booker Little's "Bee Tee's Minor Plea," also from 1960. Boeren and friends know that 1960 was a hell of a jazz year, and with Coconut they've helped achieve the same for 2012.
~ Dave Lynch

Personnel: Cornet, Leader – Eric Boeren; Bass – Wilbert de Joode; Reeds – Michael Moore ; Snare [Snare Drum] – Han Bennink

Recorded live at Serah Artisan, Zaandam, NL on Sunday June 3rd, 2012

turbobit скачать
gigapeta скачать
rapidgator скачать
katfile скачать


Профиль
(1.08.20 - 23:40) - Шурка:

Отличный концерт
Clusone Trio с Michael Moore и Han Bennink тоже советую послушать. Спасибо, Агент

Профиль
(2.08.20 - 00:04) - 007:

Шурка, пожалуйста!