Исполнителей:
2650
| Альбомов:
79261
| Видео:
993
---
Главная
»
Музыка
Emil Richards - With The Jazz Knights (2000)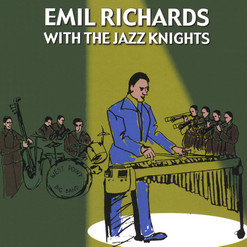 Исполнитель:

Emil Richards

Название альбома:

Emil Richards With The Jazz Knights

Год выпуска:

2000

Формат файлов:

MP3@320K/s

Размер архива:

86 MB

Скачать с:

turbobit/gigapeta/rapidgator/katfile

1. Well I Didn't
2. Yo Go Jo Po
3. Marduk the 12th Planet
4. The Real Camille
5. Himalaya 5-0
6. Celesta III
7. Turn Up the Audio for Claudio
8. Celesta IV
9. Meet the Flintstones/ Merrily We Roll Along

Vibraphonist and longtime first-call Los Angeles studio musician Emil Richards whose playing graced countless movie and TV soundtracks, albums, and jingles died on December 14, 2019. Born in Hartford, Connecticut in 1932, Emilio Joseph Radocchia began studying xylophone at age six. He was soon attracted to the vibraphone after hearing Lionel Hampton. "My roots are from Hamp," Richards said in a 1994 Percussive Notesarticle. "I got all my early training from copying and playing along with Hamp's records, because he was the only one around at the time." By the time Richards was in tenth grade, he was playing with the Hartford Symphony. He attended the Hartt School of Music from 1949–52, where he studied with Al Lepak, and after being drafted he played in an Army band in Japan, where he worked with pianist Toshiko Akiyoshi. After getting out of the Army Richards settled in New York and soon became a member of George Shearing's group, with which he stayed for three years. In 1959 he moved to Los Angeles where he worked with Paul Horn and Don Ellis, eventually leading his own group, the Microtonal Blues Band. He also worked with instrument innovator Harry Partch, toured and recorded with former Beatle George Harrison, and recorded with artists including Frank Sinatra, Louie Bellson, Quincy Jones, Stan Kenton, Peggy Lee, Shadowfax, Nancy Wilson, Sam Cooke, Tom Scott, Marvin Gaye, Carly Simon, Phil Spector, Bette Midler, the Beach Boys, Frank Zappa, and many others.

Meanwhile, Richards became active in the L.A. studio scene, playing on everything from the original Flintstones cartoons to TV series such as Mission Impossible(he played the bongos on the theme song), Falcon Crest, Cagney and Lacey, and Dynasty, to movie soundtracks for such films as Cool Hand Luke, Jaws, Taxi Driver, Close Encounters of the Third Kind, Batman Returns, Jurassic Park, Men in Black, Pirates of the Caribbean: the Curse of the Black Pearl, Star Trek, Indiana Jones and the Temple of Doom, Ghostbusters, Spider-Man 2, and the various Planet of the Apesfilms. "My ideal situation for a session would be playing the hardest mallet parts conceivable," he once said. "I like to go home exhausted from playing good, hard music. By hard I mean difficult, because it's a challenge. I love a challenge." Richards also prided himself on being able to come up with the proper sound for any situation, and he amassed a collection of over 350 instruments from around the world. Composers came to depend on his knowledge of world percussion when scoring films set in exotic locations. Richards, in turn, especially enjoyed working with composers who used instruments in creative ways. "On the movie soundtrack for The River Wild, Jerry Goldsmith wrote melodic figures for timpani and three RotoTom players," Richards recalled. "Having the timpani and RotoToms playing melodic lines together in octaves was really a good noise."

Richards said that one of the most important things he learned was to be selective about the instruments he used. "When I first started, I was very proud of all of these instruments I had collected," he told writer Robyn Flans in a 1985 Modern Percussionistinterview. "I had a tendency to pull everything out of the bag. I've noticed this happens to a lot of percussionists when they play live: They don't let eight bars of music go by before playing on a different instrument. They don't give one instrument a chance to do something. Naturally, if five instruments do work and they provide the colors and help the music, fine, but in most cases you can't really get going playing in a rhythmical context if you're trying to play congas and then jump to a shaker or hit a cowbell." A longtime supporter of the Percussive Arts Society, Richards donated 65 of his instruments to the PAS museum in Lawton, Oklahoma when it was built in 1992, including his entire collection of Thai gamelan instruments and a Leedy "octarimba," which is similar in concept to a 12-string guitar in that it has bars mounted in pairs and pitched an octave apart that are played with a double-headed mallet. Richards also helped the PAS museum acquire other instruments, such as one of Shelly Manne's drum sets. (Those instruments are now housed in the Percussive Arts Society's Rhythm! Discovery Center in Indianapolis.) In 1994, Richards was elected to the PAS Hall of Fame. Even while he was busy in the studios, Richards continued to do gigs on vibes. For many years, he and drummer Joe Porcaro co-led a group that was known both as Calamari and Contraband. Richards also did some composing, and his vibes playing and composing were heard to advantage on his solo album, The Wonderful World of Percussion, on the Interworld Music label. "I overdubbed all the parts, and I have as many as 25 overdubs on some tunes," he explained. "I did a piece I wrote in seven called 'Underdog Rag,' and besides playing the four marimba parts I embellished it with all kinds of kooky sounds. The album has some bebop, some straight-ahead vibes and marimba things, and some real fun stuff. I also used some of my real oddball instruments." Other albums Richards recorded as a leader included Luntana (1996), Calamari: Live at Rocco's (2000), Emil Richards with the Jazz Knights (2003), and Maui Jazz Quartet (2006). He authored several books, including Mallet Chord Studies – Chord Voicings and Arpeggio Patterns for Vibraphone and Marimba, Sight Reading for Mallets,Melody & Rhythm Permutations,Exercises for Mallet Instruments (all published by Hal Leonard), andWonderful World of Percussion: My Life Behind Bars,published by BearManor Media.

turbobit скачать
gigapeta скачать
rapidgator скачать
katfile скачать


Профиль
(1.08.20 - 07:36) - 007:

pula2012, пожалуйста!