Исполнителей:
2651
| Альбомов:
86567
| Видео:
1021
---
Главная
»
Музыка
David Torn, Tim Berne, Ches Smith - Sun Of Goldfinger (2019)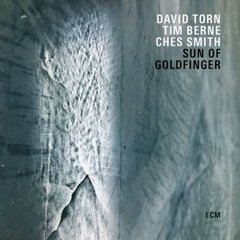 Исполнитель: David Torn

, Tim Berne, Ches Smith

Название альбома:

Sun Of Goldfinger

Год выпуска:

2019

Формат файлов:

MP3@320K/s

Размер архива:

161 MB

Скачать с:

turbobit.net

1. Eye Meddle 23:56
2. Spartan, Before It Hit 22:10
3. Soften The Blow 22:50

Guitarist-composer David Torn, a longstanding ECM artist, has enjoyed a particularly fruitful 21st-century with the label, releasing two albums under his own name - the solo only sky and quartet disc prezens in addition to producing records by Tim Berne and Michael Formanek.
With Sun of Goldfinger, Torn returns in a trio alongside the alto saxophonist Berne and percussionist Ches Smith (a member of Berne's Snakeoil band who made his ECM leader debut in 2016 with The Bell). The Torn/Berne/Smith trio, also dubbed Sun of Goldfinger, features alone on two of this album's three intense tracks of 20-plus minutes; the vast sonic tapestries of "Eye Muddle" and "Soften the Blow" - each spontaneous group compositions - belie the fact that only a trio is weaving them, with live electronics by Torn and Smith expanding the aural envelope.
The third track, the Torn composition "Spartan, Before It Hit," showcases an extended ensemble with two extra guitars (played by Mike Baggetta and Ryan Ferreira), keyboards (Craig Taborn) and a string quartet (the Scorchio String Quartet); it's an otherworldly creation, ranging from hovering atmospherics to dark-hued lyricism to storming, sky-rending grandeur.
The words of LondonJazz, reviewing Sun of Goldfinger live, also suit the band's debut on record: "This is dangerous music - at times angry, at others blissed-out and illuminating - with its thunderous rumblings... delivering not so much a wash of sound, more a tidal wave."

скачать

| | |
| --- | --- |
| Профиль | (9.02.19 - 02:29) - fonbakum: |

Профиль
(9.02.19 - 05:42) - 007:

fonbakum, пожалуйста!