Исполнителей:
2650
| Альбомов:
64739
| Видео:
970
---
Главная
»
Музыка
Daniele Cordisco - Only for the Moment (2019)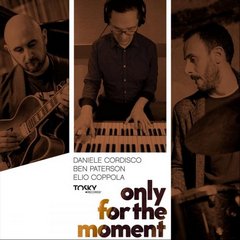 Исполнитель:

Daniele Cordisco

Название альбома:

Only for the Moment

Год выпуска:

2019

Формат файлов:

MP3@320K/s

Размер архива:

110,3 MB

Скачать с:

turbobit.net

01. Spoon
02. Only for the Moment
03. Yesterdays
04. Nobody Knows When You're Down and Out
05. Lately
06. The Best Things
07. Wild Pig
08. What Will I Tell My Heart
09. Just Friends

Ben Paterson - Hammond, Vocals
Daniele Cordisco - Guitar
Elio Coppola - Drums

On March 19, "Only For The Moment" is released, the new record production of the Roman label Tosky Records. An album that sees the presence of two excellences of Italian jazz such as guitarist Daniele Cordisco and drummer Elio Coppola and one of the best known American organists and pianists, Ben Paterson.The disc will be presented in a tour that will visit the main Italian cities, ten the concerts scheduled: Mi Svago Club - Casoria, Naples (March 20), Sei Torri Public House - Campobasso (March 21), Palazzo dei Baroni - Baselice, Benevento (March 22), BeBop Jazz Club - Rome (March 23), Rowing Bistrot - Varese (March 24), Milk - Turin (March 25), Taverna Visconti - Milan (March 26), Live Salerno Bar Santa Lucia - Salerno (March 28), Music Art - Naples (March 29), BFlat Jazz Club - Cagliari (March 30). In the disc there are original songs written by both Daniele Cordisco and Ben Paterson: "Spoon", "Only for the moment", "The best things" and "Wild pig" are their artistic synthesis, a manifesto of the different musical expressions that come together in a masterly revisited mainstream sound. There are also some masterpieces such as "Nobody knows when you're down and out", sung by the American pianist, and "Lately" by Stevie Wonder. The result is a music imbued with jazz and blues sounds that highlights the origins of Philadelphia of the organist, but also the extraordinary verve of the two Italian artists. From the listening the great vocal abilities of Ben Paterson emerge clearly, which shows off a consummate "crooner" language in some songs, in full harmony with the mood and musical intuitions of Daniele Cordisco and Elio Coppola. "From the first moment we have started playing together, we realized we had found a common style and sound, "explained the American musician. The three artists met a few months ago in New York at the Smoke Jazz Club, in the heart of Manhattan, and from this musical encounter, which unites Italy and America, gave birth to the idea of ​​recording "Only For The Moment". "A delightful swing of standards and original songs played by musicians with whom I had the pleasure of working for many years. So sit back, relax and enjoy it, as the great Bobby Durham used to say, "Happy Jazz!", Commented Jerry Weldon, a jazz saxophone legend.

Originally from Philadelphia, Ben Paterson studied both classical and jazz music before moving to the big city of Chicago where he then lived for several years playing with the best musicians in the city, absorbing the taste of jazz and blues typical of the "Windy City". He currently resides in New York City, where he received wide acclaim for his strong musicality and for his engaging performances, able to attract both jazz and non-jazz lovers, playing seductive ballads on the piano, burning on the organ alone, or singing classics the likes of Ray Charles and Nat King Cole.

He currently performs regularly in the best jazz clubs in New York City and in some of the best international jazz festivals and has collaborated with the likes of Johnny O'Neal, Red Holloway, Ed Cherry, Peter Bernstein, Jerry Weldon, Bobby Broom and many others . His latest album, "For Once In My Life" (Origin Records 2016) was awarded four stars by the renowned Jazz magazine "Downbeat Magazine". This evening accompanied by two of the most talented Italian musicians: Daniele Cordisco on guitar and Elio Coppola on drums. The group offers standards and original pieces of the wonderful African American tradition.

скачать


Профиль
(20.03.19 - 16:08) - 007:

BarensTone, пожалуйста!