Исполнителей:
2650
| Альбомов:
70879
| Видео:
977
---
Главная
»
Музыка
Chico Hamilton Quintet - Complete Studio Sessions 1958-1959 (2011)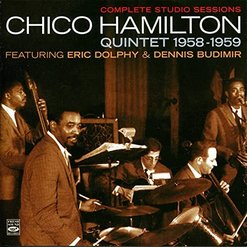 Исполнитель: Chico Hamilton

Quintet

Название альбома:

Complete Studio Sessions 1958-1959

Год выпуска:

2011

Формат файлов:

MP3@320K/s

Размер архива:

335,2 MB

Скачать с:

turbobit/gigapeta/rapidgator

Complete Studio Sessions featuring ERIC DOLPHY (2 CD set)

Chico Hamilton, a musician of extraordinary vision and understanding, knew the risks that small jazz bands take when they enter the so-called classical realms. So he licked the problem largely by selecting his men and materials with extreme caution and rare perspicacity. In the special talents of guitarist Dennis Budimir and cellist Nathan Gershman, the leader added two individual and skilled voices, one jazz-slanted and one classically oriented, but both highly flexible. And in Eric Dolphy, he acquired a remarkable instrumentalist whose command of horns and musical language ranged from Hodges to Parker. Dolphy was particularly outstanding in this third version of Hamiltons quintet. He thoroughly understood the disparate concepts of pitch and tone that frequently stand in the way of those who would deal with both jazz and legitimate techniques. This set is, in essence, a summation of the evolution Chico Hamiltons quintet had gone through before it reached the end of its time as a working group.

CD1

1.Pottsville, U.S.A.
2.Don's Delight
3.Andante
4.Fair Weather
5.Modes
6.Under Paris Skies
7.Something To Live For
8.Speak Low
9.Strange
10.Close Your Eyes
11.Ev'rything I've Got
12.Long Ago (And Far Away)
13.I Gave My Love A Cherry
14.Beyond The Blue Horizon
15.Nature By Emerson
16.Tuesday At Two
17.Gongs East
18.Far East
19.Good Grief, Dennis

CD2

01. Passion Flower
02. Where I Live
03. Opening
04. Truth
05. Fat Mouth
06. Theme For A Starlet
07. Little Lost Bear
08. Champs Elysees
09. Pretty Little Theme
10. Lost In The Night
11. Frou Frou
12. Lullaby For Dreamers
13. Cawn Pawn
14. Lady E
15. More Than You Know
16. Newport News
17. Miss Movement

Total time: 126:04 min.

Recorded in Hollywood, 1958-1959

Eric Dolphy (as, fl), Dennis Budimir (g), Nate Gershman, Fred Katz (cello), Wyatt Ruther, Ralph Peña (b) Chico Hamilton (d), String Orchestra (9 violins, 3 violas, 3 cellos)

turbobit скачать
gigapeta скачать
rapidgator скачать


Профиль
(25.05.20 - 08:53) - 007:

pula2012, пожалуйста!