Исполнителей:
2651
| Альбомов:
87301
| Видео:
1024
---
Главная
»
Музыка
Barry Altschul's 3Dom Factor - Long Tall Sunshine (2019)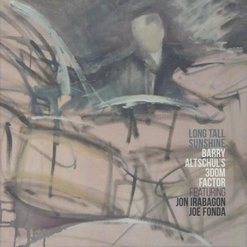 Исполнитель: Barry Altschul

's 3Dom Factor

Название альбома:

Long Tall Sunshine

Год выпуска:

2021

Формат файлов:

MP3@320K/s

Размер архива:

108,4 MB

Скачать с:

turbobit/gigapeta/rapidgator/katfile

01. Long Tall Sunshine
02. The 3Dom Factor
03. Irina
04. Be Out S'Cool
05. Martin's Stew

Drummer Barry Altschul and his chordless 3Dom Factor — featuring reedman Jon Irabagon and bassist Joe Fonda — know how to lay down a rip-snorter. Long Tall Sunshine opens with the title tune, an in-your-face, three-way melee that introduces the group's fourth album in a characteristically steroidal, free-swinging style, throwing blows from all angles.
Recorded live, "somewhere in Europe," (record keeping does not seem to be one of the group's strengths), the opening one-two punch of the title tune and "The 3Dom Factor," seems to put the group into the position of drawing energy from the assembled audience with their boisterous approach—tumultuous, rumbling muscularity from bassist Fonda and drummer Altschul, bellowing, screeching diatribes from saxophonist Irabagon. The group employs a bombastic simpatico that careens away from chaos toward a hell-bent forward momentum which has the feeling of a choreographed assault. A surrender to this (don't fight it) is recommended.

Given the furious fusillade of the two previous tunes, "Irina" is surprisingly sedate and plaintive, giving reedman Irabagon much opportunity for adventurousness in his ruminations, while "Be Out S'Cool" finds a cool groove, and the closer, "Martin's Stew" reaches for the stratosphere on Irabagon's high-register reed work.

With the exception of the title tune—which has no apparent relationship with Little Richard's "Long Tall Sally"—the four remaining Altschul-penned tunes presented here have all been visited by Barry Altschui's 3Dom Factor before; these renditions present them in fresh forms as malleable compositions open to the moment, always ready to turn new corners and explore new angles.

Barry Altschul - drums & cymbals, composer
Jon Irabagon - tenor & soprillo saxophones and alto clarinet
Joe Fonda - bass

Recorded in Europe during the trio's spring 2019 tour

Label: Not Two Records

turbobit скачать
gigapeta скачать
rapidgator скачать
katfile скачать


Профиль
(28.10.21 - 20:47) - 007:

pula2012, пожалуйста!