Исполнителей:
2650
| Альбомов:
61936
| Видео:
970
---
Главная
»
Музыка
Arnett Cobb - Just Like That (2017)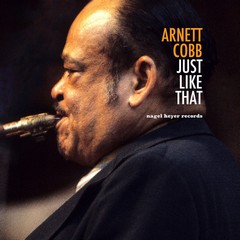 Исполнитель:

Arnett Cobb

Название альбома:

Just Like That

Год выпуска:

2017

Формат файлов:

MP3@320K/s

Размер архива:

244,2 MB

Скачать с:

depositfiles

1. Blue And Sentimental
2. The Way You Look Tonight
3. I Don't Stand A Ghost Of A Chance
4. Black Velvet
5. Darn That Dream
6. Georgia On My Mind
7. Smooth Sailing
8. Your Wonderful Love
9. P.S. I Love You
10. Blues Around Dusk
11. Willow Weep For Me
12. (I'm Left With The) Blues In My Heart
13. Hurry Home
14. Lover Come Back To Me
15. Why Try To Change Me Now
16. Blue Me
17. Charmaine
18. Blue Sermon

A stomping Texas tenor player in the tradition of Illinois Jacquet, Arnett Cobb's accessible playing was between swing and early rhythm & blues. After playing in Texas with Chester Boone (1934-1936) and Milt Larkin (1936-1942), Cobb emerged in the big leagues by succeeding Illinois Jacquet with Lionel Hampton's Orchestra (1942-1947). His version of "Flying Home No. 2" became a hit, and he was a very popular soloist with Hampton. After leaving the band, Cobb formed his own group, but his initial success was interrupted in 1948, when he had to undergo an operation on his spine. After recovering, he resumed touring. But a major car accident in 1956 crushed Cobb's legs and he was reduced to using crutches for the rest of his life. However, by 1959, he returned to active playing and recording. Cobb spent most of the 1960s leading bands back in Texas, but starting in 1973, he toured and recorded more extensively, including a tenor summit with Jimmy Heath and Joe Henderson in Europe as late as 1988. Arnett Cobb made many fine records through the years for such labels as Apollo, Columbia/Okeh, Prestige (many of the latter are available on the OJC series), Black & Blue, Progressive, Muse, and Bee Hive. ~ Scott Yanow

скачать


Профиль
(17.12.17 - 14:50) - Pepita:

Спасибо,очень хороший альбом!

Профиль
(17.12.17 - 14:54) - michel.sosnin:

А что ж хорошего. Нахватали с разных альбомов.
01, 05, 08, 09, 11, 13, 15,
for album Ballads By Cobb (1960)
02, 04, 06, 18
for album Sizzlin' (1960)
03, 07, 10, 12, 17
for album Smooth Sailing (1959)
track 14, 16,
for album More Party Time (1959)

Профиль
(17.12.17 - 14:56) - Pepita:

michel.sosnin, и что с того?Теперь и компиляции не слушать из-за того?