Исполнителей:
2650
| Альбомов:
65103
| Видео:
970
---
Главная
»
Музыка
Aretha Franklin - The Queen in Waiting: The Columbia Years 1960-1965 (2002)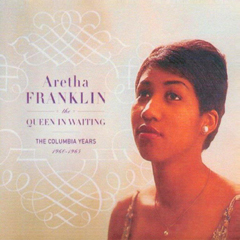 Исполнитель:

Aretha Franklin

Название альбома:

The Queen in Waiting: The Columbia Years 1960-1965

Год выпуска:

2002

Формат файлов:

mp3, 320 kb

Размер архива:

288 mb

Скачать с:

dfiles

CD-1
1-1. Nobody Like You
1-2. Once In A While
1-3. Maybe I'm A Fool
1-4. Muddy Water
1-5. Bill Bailey Won't You Please Come Home (Alternate Version)
1-6. Hard Times (No One Knows Better Than I)
1-7. Today I Sing The Blues
1-8. Won't Be Long
1-9. Nobody Knows The Way I Feel This Morning
1-10. Evil Gal Blues
1-11. Lee Cross
1-12. Walk On By
1-13. I Wonder (Where You Are Tonight)
1-14. God Bless The Child
1-15. Blue Holiday
1-16. Looking Through A Tear
1-17. Tiny Sparrow
1-18. Here Today Gone Tomorrow
1-19. Little Brown Book
1-20. Without The One You Love

CD-2
2-1. This Bitter Earth
2-2. Just For A Thrill
2-3. Skylark
2-4. Skylark (Alternate Version)
2-5. Trouble In Mind
2-6. Runnin' Out Of Fools
2-7. Drinking Again
2-8. Laughing On The Outside
2-9. What A Diff'Rence A Day Makes
2-10. Soulville
2-11. You'll Lose A Good Thing
2-12. Take A Look
2-13. Cry Like A Baby
2-14. I Wish I Didn't Love You So
2-15. Only The Lonely
2-16. People (From Funny Girl)
2-17. Mockingbird
2-18. Until You Were Gone
2-19. My Colouring Book
2-20. Try A Little Tenderness

Franklin's Columbia years are hard to summarize in compilations, even fairly extensive ones such as this two-CD set, which includes six previously unreleased tracks and one previously unavailable alternate take among its 40 songs. In part that's because she explored several different styles during this era without really finding a home in any of them, in part that's because the quality of the recordings themselves were so erratic, and in part it's because Sony keeps putting out compilations that duplicate each other to a fair extent. About half the songs on this anthology, for instance, also appear on the most comprehensive previous Franklin/Columbia retrospective, Jazz to Soul. On its own merits, this is a fair summation of some of her more notable Columbia recordings, slightly more pop-oriented in its track selection than Jazz to Soul, and at least including something new in the handful of unissued numbers. David Ritz's informative liner notes make a case for viewing the Columbia years as ones with numerous artistic successes. But the fact remains that the mixture of lush pop, Billie Holiday-style jazz-blues, Dinah Washington/Nancy Wilson-style jazz-pop crossover, early Dionne Warwick-style light soul-pop ("Cry Like a Baby" is actually a quite good cut of that sort), and hints of gospel is unfocused, if often promising. And it's not nearly as good or expressive as the soul she'd delve into at Atlantic after leaving Columbia. Her accompanists sometimes deserve their share of blame as well; the drums of "Nobody Knows the Way I Feel This Morning" almost totally lose the rhythm at one point, and the harmonica player on "Evil Gal Blues" sounds like she or he had just been dragged in off the street. There's not much soul music here, in the accepted stylistic sense, other than the two best tracks, "Soulville" and "Lee Cross," which are the ones that point most convincingly to her future triumph as the Queen of Soul. The previously unreleased items (all on disc one) are as variable as the rest of the set, ranging from the satisfyingly bluesy cover of Ray Charles' "Hard Times (No One Knows Better Than I)" (with some fine Franklin piano) and the respectable jazz/R&B/gospel of "Please Answer Me" to trifling Bobby Scott-produced orchestrated pop ballads and an unremarkable alternate take of "Bill Bailey, Won't You Please Come Home."

Label: Columbia

скачать


Профиль
(21.08.18 - 14:59) - Asmadey:

Спасибо, dear JAZZ76! Это квинтэссенция её творчества. "What A Diff'Rence A Day Makes" ещё никто не спел, как она. И вообще... Мир праху Её.