Исполнителей:
2652
| Альбомов:
94347
| Видео:
1053
---
Главная
»
Музыка
Anthony Hervey - Words From My Horn (2023)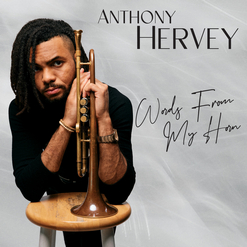 Исполнитель:

Anthony Hervey

Название альбома:

Words From My Horn

Год выпуска:

2023

Формат файлов:

FLAC/MP3@320K/s

Размер архива:

377,7 MB/159 MB

Скачать с:

turbobit/gigapeta/katfile/rapidgator

1. Crystal Stair (06:31)
2. The Rust From Yesterday's Blues (05:00)
3. Neither Here, Nor There (04:08)
4. Afro Power (06:46)
5. Du-Rag (03:08)
6. The Glider (06:17)
7. But Beautiful (03:05)
8. Smoky Cloud (03:30)
9. His Eye Is On The Sparrow (03:53)
10. Better Days (05:28)
11. Dreams From The Crossroad (08:20)
12. Words From My Horn (08:13)

Words From My Horn is the debut album by trumpeter and composer Anthony Hervey. Hervey, who was recently chosen as one of Grammy.com's 10 Emerging Jazz Artists To Know in 2023, has impressed audiences across the globe as a first-call sideman for luminaries such as Christian McBride, Jon Batiste, Michael Bublé, and Wynton Marsalis who described Hervey as a "beautiful trumpet player of the first magnitude." The 12-track debut, as soulful as it is cerebral, presents the trumpeter's compositional voice through personal, musical, and spiritual memories. Produced by powerhouse drummer Ulysses Owens Jr., Words From My Horn features Hervey's soaring trumpet alongside alto saxophonist Sarah Hanahan, pianists Isaiah J. Thompson and Sean Mason, bassist Philip Norris and drummer Miguel Russell.

Words From My Horn justifies the notion that sound is lived experience. In effect, the storybook quality of Words From My Horn distills a sonic vantage point of the trumpeter's life. Thematically, the album meditates on the impact Hervey's mother and grandmother had on his upbringing, his birthplace of Terre Haute, Indiana and the concept that hope can prevail in the face of harsh realities.

Musically, Words From My Horn is far-reaching. Hervey sets out to embrace the full breadth of the Jazz idiom from its earliest influences to the present. He marries a classic Blue Note-influenced sound with decidedly modern harmonic sensibilities and melodic explorations. The album makes great use of Hervey's supple tone and stunning improvisational facility to weave tales of adversity, transcendence, faith and hope. With heavy helpings of both blues and gospel influence, the artist taps into an impassioned place with each of his bandmates.

The album begins with "Crystal Stair," calling upon a famous line in the Langston Hughes poem "Mother to Son", which reads "Well, son, I'll tell you: Life for me ain't been no crystal stair." Hervey dedicates the tune to his mother, who imparted a similar wisdom to the young trumpeter. "I owe her not only my life, but also my trumpet, my music, and who I am," Hervey adds. The album continues with "The Rust From Yesterday's Blues," the first of its four blues songs. "[The] blues acknowledge the hard realities of living while maintaining a sense of hope for tomorrow," Hervey remarks. "The Glider," a blues song in a major key, was written while Hervey sat behind the piano at his grandparents' home in Indiana: "When I visited in the summer, they had a glider on the porch where we would sit and watch cars go by." "The Glider" is a reflection on soulful times, the feeling of being home and memories we can have of those we love."

"Afro Power" celebrates Black style and pride and an ode to Hervey's first year in New York when he had what he describes as an "immaculate Afro". Punningly also alluding to hair, "Du-Rag" is a contemporary take on the Rag form that blends elements of stride piano, gospel and blues. Influences of Scott Joplin, James P. Johnson, Louis Armstrong, and Earl Hines resonate throughout, transporting ragtime to the modern day.

Momentarily placing his trumpet aside, Hervey demonstrates his vocal prowess on "Smoky Cloud," which lyrically depicts an early memory with his grandmother. The group delivers an affecting rendition of the classic gospel hymn "His Eye is On the Sparrow," which Hervey cites as an agent of his grit and perseverance in dark times. This spirit of hope is what leads to "Better Days," a bright-tempoed blues on which Hervey discharges a stirring solo.

A salute to Indiana, "Dreams From the Crossroad," references the intersection of Routes 40 and 41 in Hervey's hometown Terre Haute, an intersection known as the "Crossroads of America". The piece reflects on the intersection of dreams, optimism and decisions made that led the artist through passages where his dreams became realities. Concluding with "Words From My Horn," the title track reinstates Hervey's mantra that when words fail, music speaks; "I want my sound to be like a spirit, changing people's hearts and minds, as well as uplifting and inspiring them through jazz."

Anthony Hervey - trumpet
Isaiah J. Thompson, Sean Mason - piano
Sarah Hanahan - alto saxophone
Philip Norris - bass
Miguel Russell - drums

Label: Outside in Music

Download/Скачать FLAC

gigapeta скачать
katfile скачать

Download/Скачать MP3@320K/s

turbobit скачать
katfile скачать
rapidgator скачать


Профиль
(10.06.23 - 06:22) - 007:

pula2012, пожалуйста!