Исполнителей:
2650
| Альбомов:
65932
| Видео:
970
---
Главная
»
Музыка
Anat Cohen Tentet - Triple Helix (2019)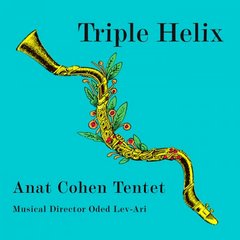 Исполнитель:

Anat Cohen Tentet

Название альбома:

Triple Helix

Год выпуска:

2019

Формат файлов:

MP3@320K/s

Размер архива:

122,6 MB

Скачать с:

turbobit.net

1. Milonga Del Angel
2. Triple Helix: i first
3. Triple Helix: ii for Anat
4. Triple Helix: iii last
5. Miri
6. Footsteps & Smiles
7. La Llorona
8. Lonesome Train
9. Morning Melody (Epilogue)

The Israeli-born saxophonist and clarinet virtuoso has become a prominent figure on the New York scene since arriving from Tel Aviv in 1999. With Triple Helix, her ninth as a leader, Cohen explores some heady new territory, including a three-movement concerto written for her tentet by longtime collaborator and former high school pal Oded Lev-Ari. Patterned after George Gershwin s Rhapsody in Blue, this jazz-meets-the-classics work ranges from solo clarinet to abstraction impressionism, rock bombast and free jazz with forays into Middle Eastern music and lush romanticism. And through it all, Cohen s commanding clarinet bursts forth with incredible dexterity and bristles with energy and invention. Elsewhere on Triple Helix, Cohen s tentet turns in a faithful take on Astor Piazzolla s stirring tango Milonga Del Angel and the leader rekindles her love of Brazilian music on her alluring Choro Pra Miri and her spirited samba, Footsteps & Smiles. She reserves her most dramatic playing for the Mexican folk song La Llorona, which Lev-Ari surrounds with lush, Gil Evans-inspired horn voicings. The ace arranger also makes an intriguing, oddball choice in tackling Gene Roland s eerily dissonant Lonesome Train, a staple of the Stan Kenton Orchestra of the early 1950s, which has Cohen s clarinet substituting for singer Kay Brown and trombonist Nick Finzer contributing a rather subversive solo. (The Anat Cohen Tentet will appear at the San Francisco Jazz Festival on May 19)." - Paste April 2019 "12 Women Influencing the Future of Jazz."

Anat Cohen CLARINET
Oded Lev-Ari MUSICAL DIRECTOR
Nadje Noordhuis TRUMPET & FLÜGELHORN
Nick Finzer TROMBONE
Owen Broder BARITONE SAX
Christopher Hoffman CELLO
James Shipp VIBRAPHONE & PERCUSSION
Vitor Gonçalves PIANO & ACCORDION
Sheryl Bailey GUITAR
Tal Mashiach BASS
Anthony Pinciotti DRUMS

скачать


Профиль
(17.06.19 - 22:24) - 007:

Vickers, пожалуйста!