Исполнителей:
2651
| Альбомов:
81524
| Видео:
1014
---
Главная
»
Музыка
Alexander Brott - The Aesthetic Attitude (2020)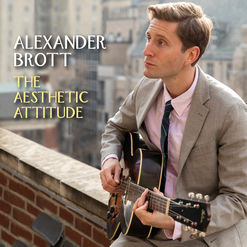 Исполнитель:

Alexander Brott, Keith Balla, Stefano Doglioni

Название альбома:

The Aesthetic Attitude

Год выпуска:

2021

Формат файлов:

FLAC

Размер архива:

232,2 MB

Скачать с:

turbobit/gigapeta/rapidgator/katfile

My name is Alexander Brott, I'm a Swedish/Canadian jazz guitarist. Until recently I was living in New York where I played every night with some of the city's finest musicians.

The year 2020 had some of the wildest ups and downs of my life. A global pandemic led tomost ofmywork for the foreseeable future being cancelled over the space of aweekend. While the world was going through all kinds of turmoil and my usually busy schedule was practically empty, I suddenly had an abundance of time to reflect, practice, read and write. During a week of quarantine while processing this new situation I started to compose. I would sit up on our rooftop all day and listen to my favorite composers like Tadd Dameron, Duke Ellington, Elmo Hope, Mary Lou Williams, Thelonious Monk, hardly conscious of how effortlessly the music was coming to me. By the end of the week I had enough songs for a complete album.

I recorded the music together with some of my favorite musicians whom I've had the great fortune of playing with regularly during my time in New York: Stefano Doglioni on bass clarinet, Ari Roland on bass and Keith Balla on drums. Three
completely unique and brilliant musicians who always play with total conviction, sincerity and creativity. I can't thank them enough for all they've done forme.

The name of the album came to me from a book I was reading at the time by Simone deBeauvoir. It has to do with the act of engaging with the world in an artistic way and escaping the burdens of life through art.

To me this album is a reflection of my experiences in New York the last few years, every song inspired by a certain memory, place or feeling. It is also meant as a celebration of this art form and its ability to guide us through trying times.

Many thanks to Jordi and Fresh Sounds Records for their kind support and for the great work they do. I have a feeling this will be the start of a long and rewarding collaboration.

— Alexander Brott

01. Mosaic 4:02
02. Hopeless 3:58
03. D.S. 5:39
04. Shake 3:20
05. Milano's 5:09
06. The Aesthetic Attitude 4:07
07. Just a Moon 5:47
08. Sisyphus 3:38
09. Day Off 3:49

All compositions by Alexander Brott

Alexander Brott (guitar), Stefano Doglioni (bass clarinet), Ari Roland (bass), Keith Balla (drums).

Swing Alley SA 045

Recorded at Oktaven Audio, Mt. Vernon, New jersey, December 2020

turbobit скачать
gigapeta скачать
rapidgator скачать
katfile скачать


Профиль
(25.10.21 - 19:26) - 007:

Good, пожалуйста!